French and Australian experts on Pacific issues will work together following the signing today of an agreement between the École des Hautes Études en Sciences Sociales and The Australian National University. (16 March 2011)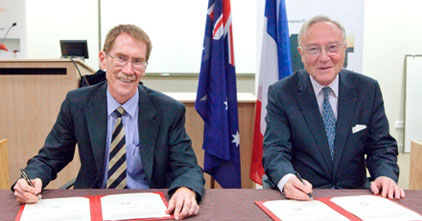 The ANU Vice-Chancellor, Professor Ian Young and the Ambassador of France,
M. Michel Filhol - Photo Darren Boyd
The École des Hautes Études (EHESS – Institute for Advanced Studies in Social Sciences) is one of the prestigious ʻHigh Colleges' of the French tertiary education sector. The agreement, signed today by ANU Vice-Chancellor Professor Ian Young and French Ambassador His Excellency Michel Filhol (and signed in Paris by EHESS President Prof. François Weil), will see the two institutions share social science expertise and give added strength to collaborative research in the Pacific through the launch of a new EHESS-Canberra Branch at ANU. It will also see a Professor from EHESS, Prof. Serge Tcherkezoff, based at ANU to organise the Branch and the collaborative programs.
See speech by the Ambassador of France, M. Michel Filhol


Vice-Chancellor Professor Young said the agreement between the two institutions highlighted the expertise and research strength at both institutions.

"ANU is proud of its globally-recognised strength in Pacific studies which has been built over many years through a remarkable collection of scholars working on Melanesia and Polynesia," he said. "France, too, has longstanding interests in and expertise on the Pacific region. We're delighted to formalise and enhance our already strong links."

EHESS President Weil said (in a message that he sent): "In our globalized world we need global knowledge. For an institution like the EHESS, probably one of the less provincial ones in the French system of higher education and one which has always looked to the rest of the world, establishing formal relations with a prestigious partner like the Australian National University is an honor and a pleasure"



 See speech by EHESS President Prof. François Weil and Prof. Serge Tcherkezoff


 See presentation of EHESS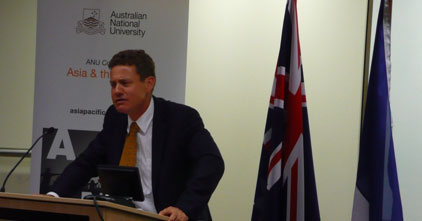 Dean of the ANU College of Asia and the Pacific, Professor Andrew MacIntyre
Photo Darren Boyd
Dean of the ANU College of Asia and the Pacific, Professor Andrew MacIntyre, welcomed the agreement.

"EHESS has an internationally distinguished reputation in the social sciences and we are excited to have the chance to foster social science collaboration with a particular interest in the Pacific region," he said. "ANU, through the College of Asia and the Pacific, has collaborated with EHESS researchers in many ways for many years. But this agreement will allow for more structured collaboration and offer increased opportunities for researchers at both institutions."

The EHESS is based in a number of locations in France, including Paris, Marseille, Toulouse and Lyon. It has been home to many famous staff and students, including anthropologist Claude Levi-Strauss, historian Fernand Braudel, philosopher Jacques Derrida, sociologist Manuel Castells and author Milan Kundera.

The agreement will be marked this evening with the 2011 Fonds Pacifique Lecture – organised by the French Secrétariat Permanent pour le Pacifique, ANU and the University of Canterbury, New Zealand. The lecture will be given by Denise Fisher, a former High Commissioner in several countries and Australia's Consult-General in New Caledonia, on the subject ʻFrance in the South Pacific'.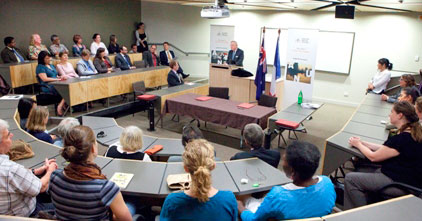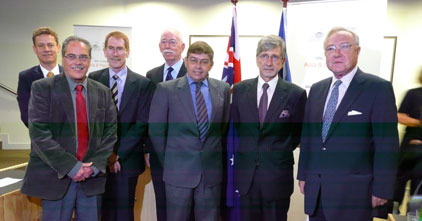 from left to right: Dean Andrew MacIntyre, Prof. Serge Tcherkezoff, Vice-Chancellor Ian Young, ANU Prof. Darrell Tryon, IRD General Delegate for the Pacific Gilles Fedière, French Embassy Cultural Counsellor Pierre Labbe, H.E. Ambassador Michel Filhol" - Photo French Embassy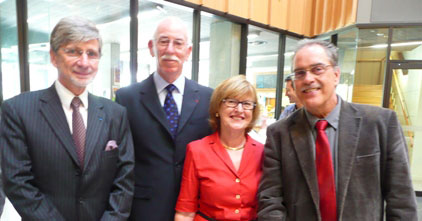 Mr Pierre Labbe, ANU Prof. Darrell Tryon, Mrs Gabrielle Tryon, Prof. Serge Tcherkezoff"- Photo French Embassy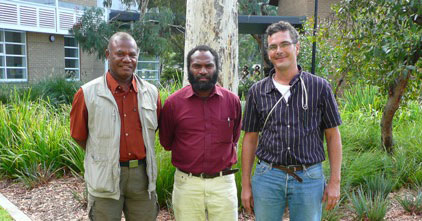 Director of Tafea Cultural Centre Jacob Kapere, Director of Vanuatu Cultural Centre Marcellin Abong, CNRS Researcher Marc Tabani"- Photo French Embassy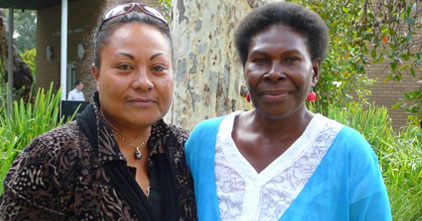 Ms Sueina Lokeni-Tcherkezoff and Dr Ruth Saovana-Spriggs (ANU)"
Photo French Embassy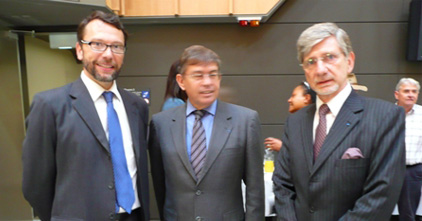 French Embassy Deputy Head of Mission Marc Trouyet, Dr Gilles Fédière (Dir. of IRD-Pacifique), Mr Pierre Labbe (Cultural and Scientific Counsellor at the Embassy)
Photo French Embassy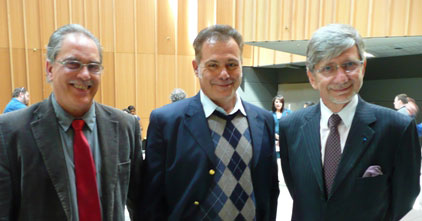 in the middle: Prof. Bernard Rigo, Director of the Social Sciences Centre (CNEP) at the University of New Caledonia (UNC)- Photo French Embassy

For interviews:
Professor Andrew MacIntyre - 02 6125 2221
Professor Serge Tcherkezoff (EHESS-Canberra) : serge.tcherkezoff@anu.edu.au
For media assistance : Martyn Pearce, ANU Media - 02 6125 5575 / 0416 249 245